News
Funnel-Web Spider Bites Increase while Venom Supplies Diminish
Source: The Australian Reptile Park
Archived 24 Mar 2017
- Posted: 26 Jan 2017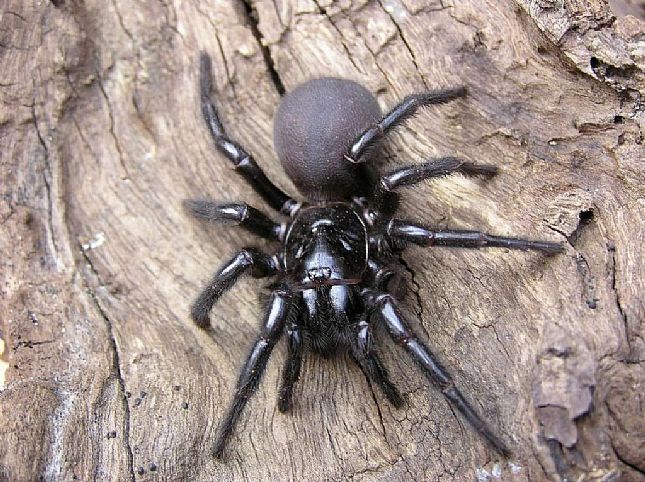 Recent warm humid nights have encouraged spiders to be on the move and an increase in bites, particularly from deadly funnel-web spiders have been reported.
Since pioneering Australia's funnel-web spider anti-venom program in 1981, nobody has died from a funnel-web spider bite. The program has saved the life of two recent bite victims in NSW, a Southern Highlands resident bitten whilst in bed and a Taree resident bitten on the foot.
Australian Reptile Park's venom program for funnel-web milking relies solely on public support for funnel-web spider hand ins to the park or to drop-off zones, and supplies are alarmingly low! The park is calling on community support to help increase supplies.
"2016 saw the least amount of hand-ins in the park's history, despite good exposure and community awareness," said park keeper, Ranger Mick Tate. "Should supplies continue to diminish the lifesaving anti-venom program will be in jeopardy!
"Australian Reptile Park's milking team completed 1,500 milkings last season, but the aim is to complete 5,000 milkings to build up on venom supplies.
"We're encouraging residents of NSW to not kill funnel-web spiders that they come across but rather follow our safety guidelines on-line to capture the spider, and hand them in at the park or a participating drop off centre. By doing so we're saving Australians lives!"
As experts in funnel-web behavior, Australian Reptile Park recommends that residents in areas that have a high number of funnel-web spiders have a compression bandage in their house, readily available should someone be bitten.
"If bitten, a pressure immobilisation bandage should be wrapped firmly around the bite area and the limb, and medical assistance sought immediately, added Ranger Mick. We also recommend a capture kit be kept including a glass jar with air holes in the lid, and a plastic ruler to guide the spider into the jar for collection."
In addition to the Australian Reptile Park, drop-off zones for funnel-web spiders are located in Sydney, the Central Coast and Newcastle and all facilities are provided with a spider safety kit to house the spiders until Australian Reptile Park staff can come and pick them up each week.
The Australian Reptile Park website features a safety and capture video on-line, taking viewers through a step by step process in collection and delivery of a funnel-web spider.
Drop off zones around NSW include:
Sydney
Westmead Hospital
Sutherland Hospital
Hornsby Hospital
Brookevale Greencross Vets
Mona Vale Veterinary Hospital
Hawkesbury City Council
Central Coast
Australian Reptile Park
Gosford Hospital
Wyong Hospital
Wyoming Veterinary Hospital
Wyong Hospital
Vital First Aid Gosford
Newcastle
John Hunter Hospital
How to catch a Funnel Web spider
This article archived 24 Mar 2017
Recent News
What's New
Office Desks
Nepean Office Furniture and Supplies
Learn something new! Term2 Catalogue out
Macquarie Community College Carlingford
See also:
News Menu: